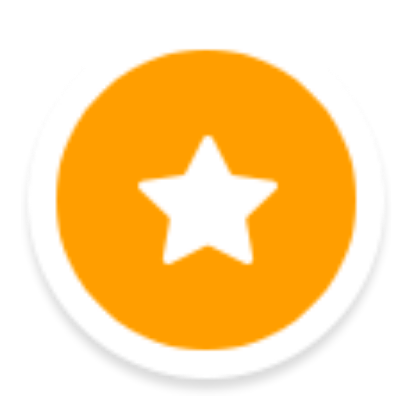 Don't Miss A Training!

All Five Sessions Are Now On Demand!
The Reputation Boot Camp Is Everything You Need To Accelerate Your Reputation Marketing Success!
Who's the Reputation Bootcamp designed for?
The Onlooker - If you've always been sitting on the sideline wishing you had the confidence to get started with reputation marketing at ANY level...now's the perfect opportunity to get in the game!
The Too-Confused - if you've always been interested in reputation (maybe even purchased) but got overwhelmed wondering "what to do next"...this 5 day hand-holding experience is exactly what you need!
The Too-Busy - maybe you're already "crushing it" with Reputation or Social Media but know you need diversity in your service portfolio...there's never been a better time than NOW!
The Reputation Expert - You might already have a few reputation clients or even have a 6-figure business, but there's no substitute for direct, hands-on strategy training to BOOST you're results!
About Your Boot Camp Base...
Your Boot Camp base the the gateway to all your bootcamp trainings!
✅ Learn More About Each Session
✅ Access Your On-Demand Training Recordings & Materials
Here's the 5 Day Boot Camp Agenda: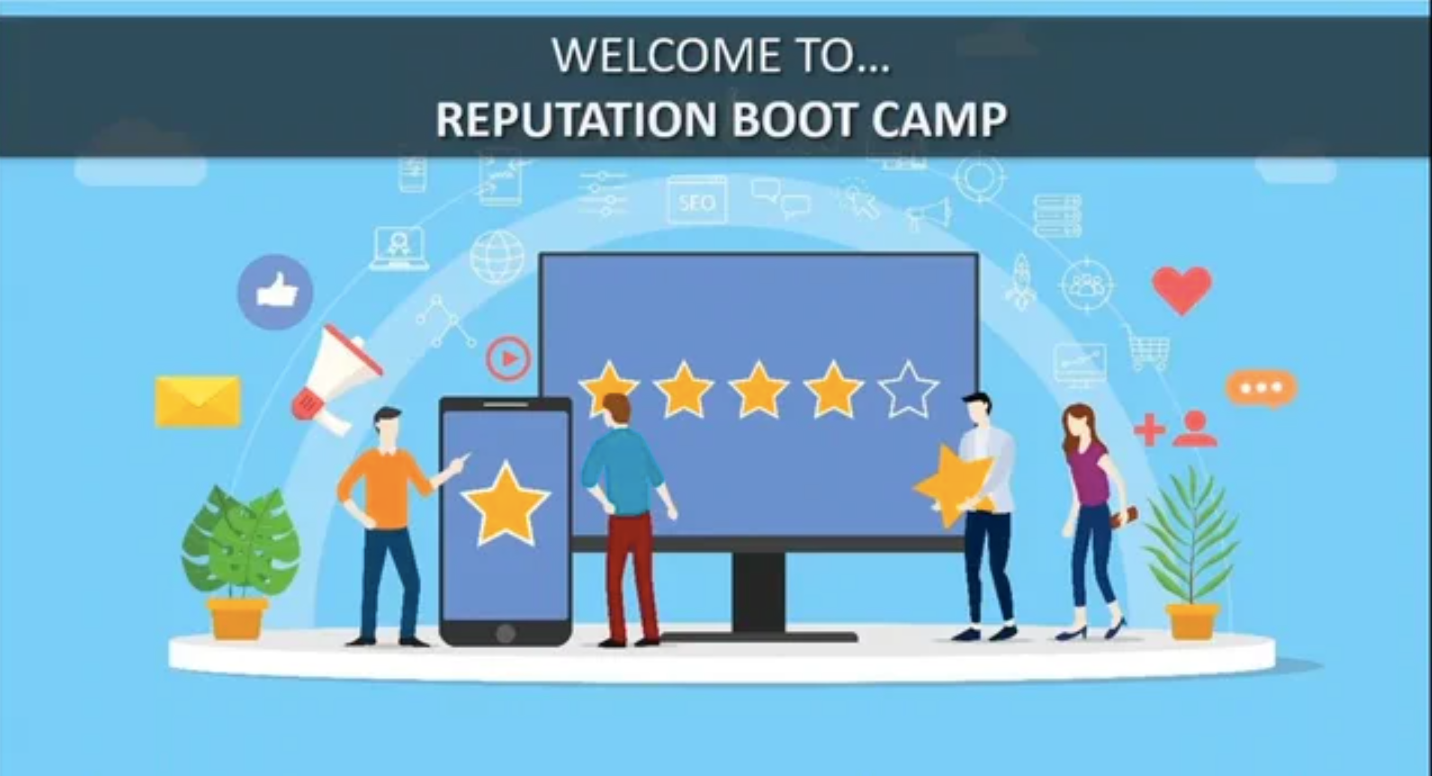 SESSION ONE
​​​​​​​February 15th 2022
Time to start building your Reputation marketing division! In the first session we'll lay out the goals & strategy for the week.

By the end of day 1, we'll take you by the hand and get all your account setup complete, including your own whitelabel Reputation Agency Website!
Watch Day 1 On-Demand Now!
SESSION TWO
February 16th 2022
It's time to start prospecting! We're going to equip you with everything you need create new Reputation Marketing opportunities including:

✓ How to create foot-in-the-door conversations with businesses to offer high value reputation services!

✓ Strategies to leverage multiple channels include social media to have people reaching out to you!

✓ In all... 5 unique marketing strategies to scale your offers!

✓ Plus access your exclusive RepKahuna Cash Map Resource!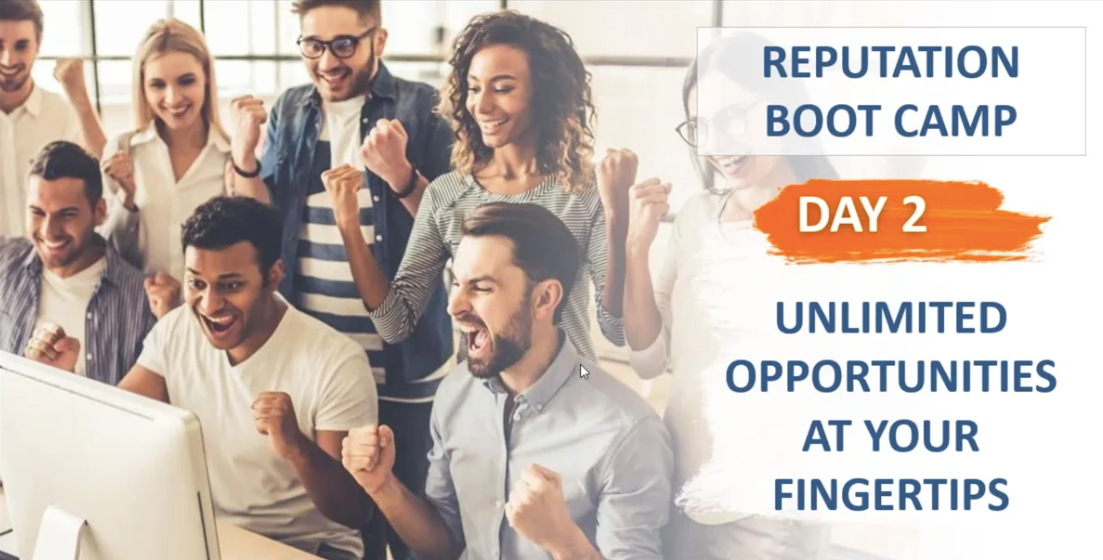 Watch Day 2 On-Demand Now!
SESSION THREE
February 17th 2022
We're going to walk you through the proven Reputation Marketing strategies to move a business from interested to a customer!

This session is all about learning the sales process, familiarizing yourself with the scripts, presentations and more! If time permits we'll do live role-play to expertly deliver our…

✓ Initial Offer Sales Script

✓ PowerPoint Presentation

✓ And How to Walk Through the Offer and Close the Sale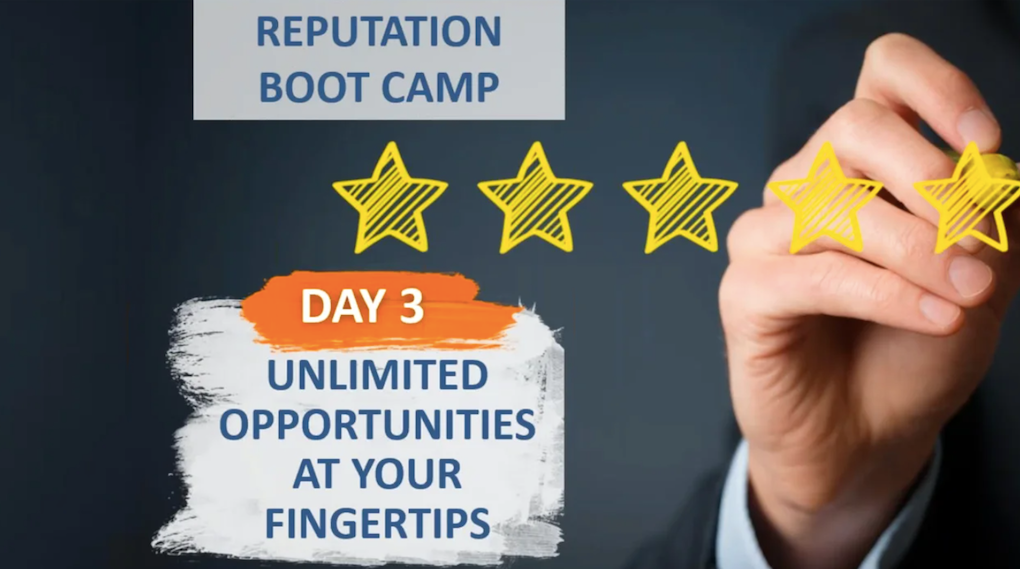 Watch Day 3 On-Demand Now!
SESSION FOUR
February 18th 2022
It's time to activate your Reputation Marketing campaigns! Together, we'll setup your first Reputation Marketing campaigns.

And you decide what it's for…

✓ Your own agency

✓ For an existing client

✓ Or for a brand new customer!

Plus we'll have time for real time support and Q&A!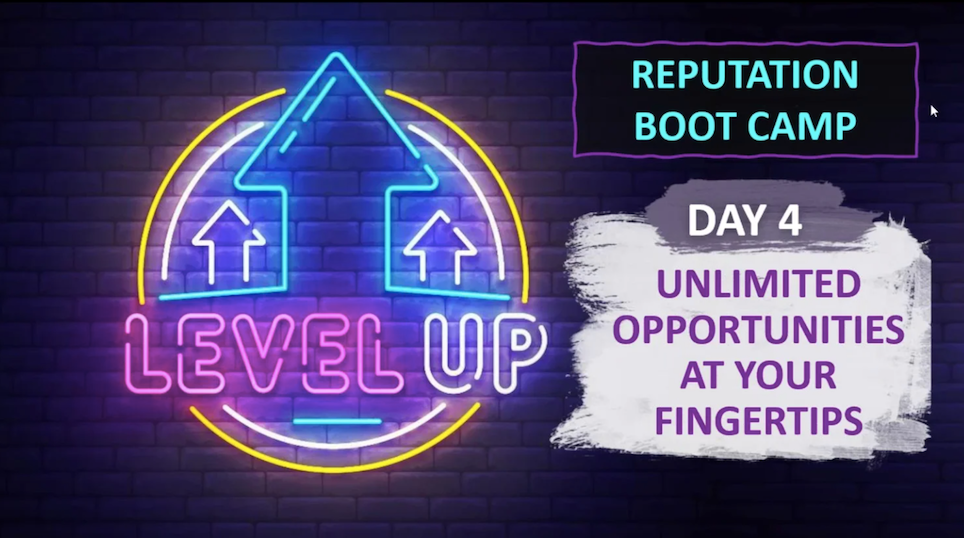 Watch Day 4 On-Demand Now!
SESSION FIVE
February 21st 2022
We take it up a level with Advanced Reputation Strategies!
​​​​​​​
We'll close the Boot Camp out in style by providing you with the most advanced sales strategies you need to separate yourself from every other marketing agency in the industry! ​​​​​​​

Please note: On-Demand Replay & Resources (If applicable) Will Be Made Available Once The Training Is Complete.​​​​​​​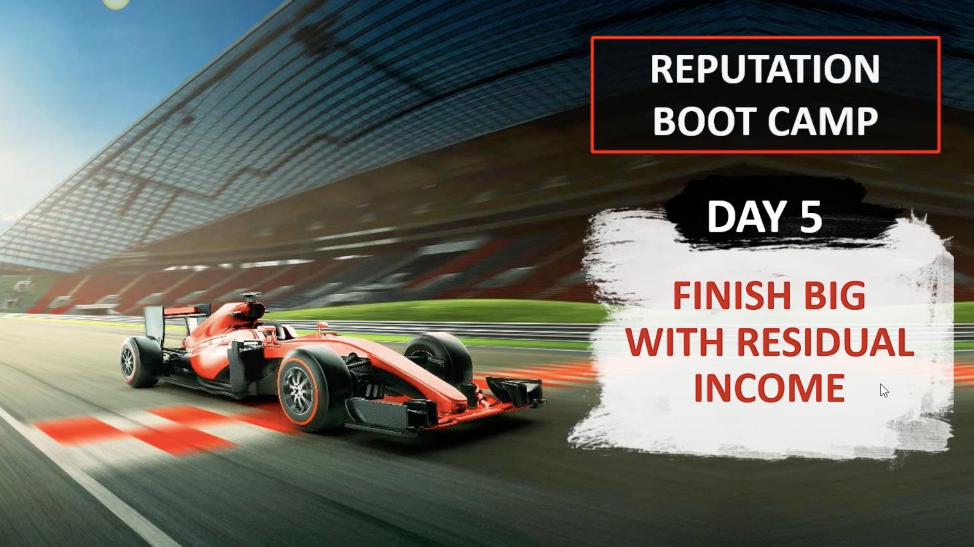 Watch Day 5 On-Demand Now!
Strategic Marketer can not and does not make any guarantees about your ability to get results or earn any money with our ideas, information, tools, or strategies.
Nothing on this page, any of our websites, or any of our content or curriculum is a promise or guarantee of results or future earnings, and we do not offer any legal, medical, tax or other professional advice. Any financial numbers referenced here, or on any of our sites, are illustrative of concepts only and should not be considered average earnings, exact earnings, or promises for actual or future performance. Use caution and always consult your accountant, lawyer or professional advisor before acting on this or any information related to a lifestyle change or your business or finances. You alone are responsible and accountable for your decisions, actions and results in life, and by your registration here you agree not to attempt to hold us liable for your decisions, actions or results, at any time, under any circumstance.
This site is not a part of the Facebook website or Facebook Inc. Additionally, This site is NOT endorsed by Facebook in any way. FACEBOOK is a trademark of FACEBOOK, Inc.